The World's Highest Watches: The Best Space Watches, Ranked By Us
So far, 1899 watches have gone to space. We know that because Robert Jackson put together a (still growing) database: Watches used in space exploration.
But what was the first watch in space? And what was the best watch that's joined incredible missions - often being key to their success? From the famous OMEGA space watch to astronaut watches you might not have heard of yet, we've ranked 7 watches that have reached unimaginable altitudes. 
Prefer to stay on Planet Earth? Check out our list of the 7 Best Diving Watches, Ranked By Us.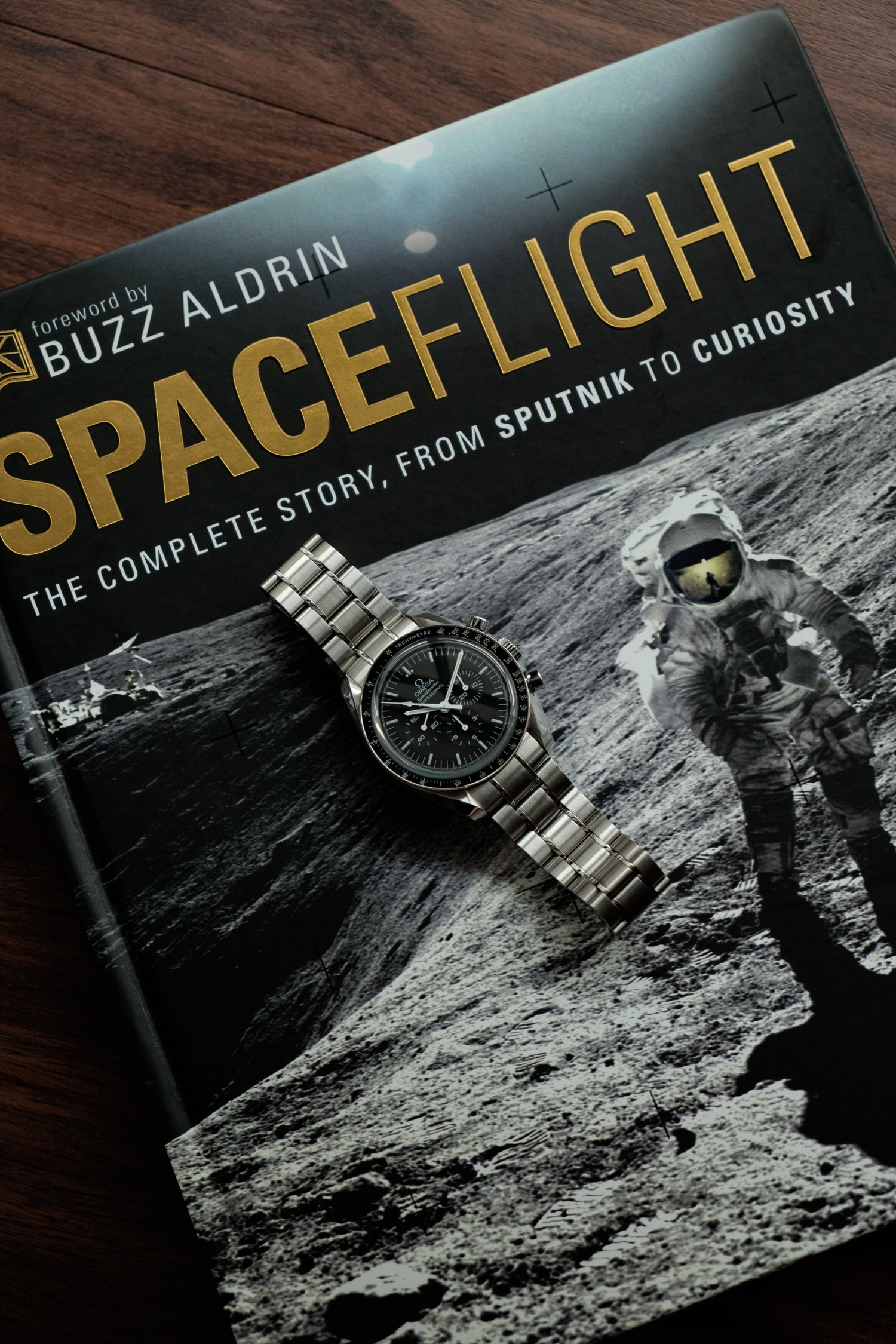 #1 OMEGA Speedmaster "Moonwatch" Professional
Mission: The moon 
First launched: 1957
Worn by: Neil Armstrong, Buzz Aldrin, Jeff Bezos, Wally Schirra
We hate to be predictable, but we had to kick off this list with the "OMEGA space watch". Created in 1957 as part of OMEGA's Professional line of watches (alongside the Seamaster 300 and the Railmaster) the Speedy has become synonymous with space exploration.
The Speedmaster Moonwatch (ref. 311.32 40.30 01.001) was qualified by NASA in 1964 following extreme tests against three other brands - Rolex, Hamilton and Longines-Wittnauer. It joined Neil Armstong, Michael Collins and Buzz Aldrin in the first-ever moon landing.
OMEGA has since evolved the watch, but it has held onto its classic 4th generation style worn by those  Apollo 11 astronauts. A new OMEGA 3861 calibre has achieved Master Chronometer certification, bringing a better power reserve, chronometric performance and magnetic resistance to the previous Moonwatch movement.
#2 Rolex GMT-Master 1678
Mission: The moon 
First launched: 1954
Worn by: Jack Swiger, Edgar Mitchell, Stuart Roosa
The Rolex GMT-Master hasn't been officially sanctioned for any space missions but is a popular astronaut watch nonetheless, accompanying many during Apollo moon missions.
The GMT-Master was first produced for Pan-Am Airlines who needed a reliable watch showing multiple time zones at once. Later, it was realised that this timepiece could go to even higher highs. It was actually the tool used to time the critical engine burn during the Apollo 13 mission, getting all astronauts safely back down to earth after the famous "Houston, we've had a problem" moment.
The timepiece was spotted in NASA archival footage vis Spacecraft Films, where Edgar Mitchell puts on what seems to be a Rolex GMT-Master over his space suit (skip to 4:58).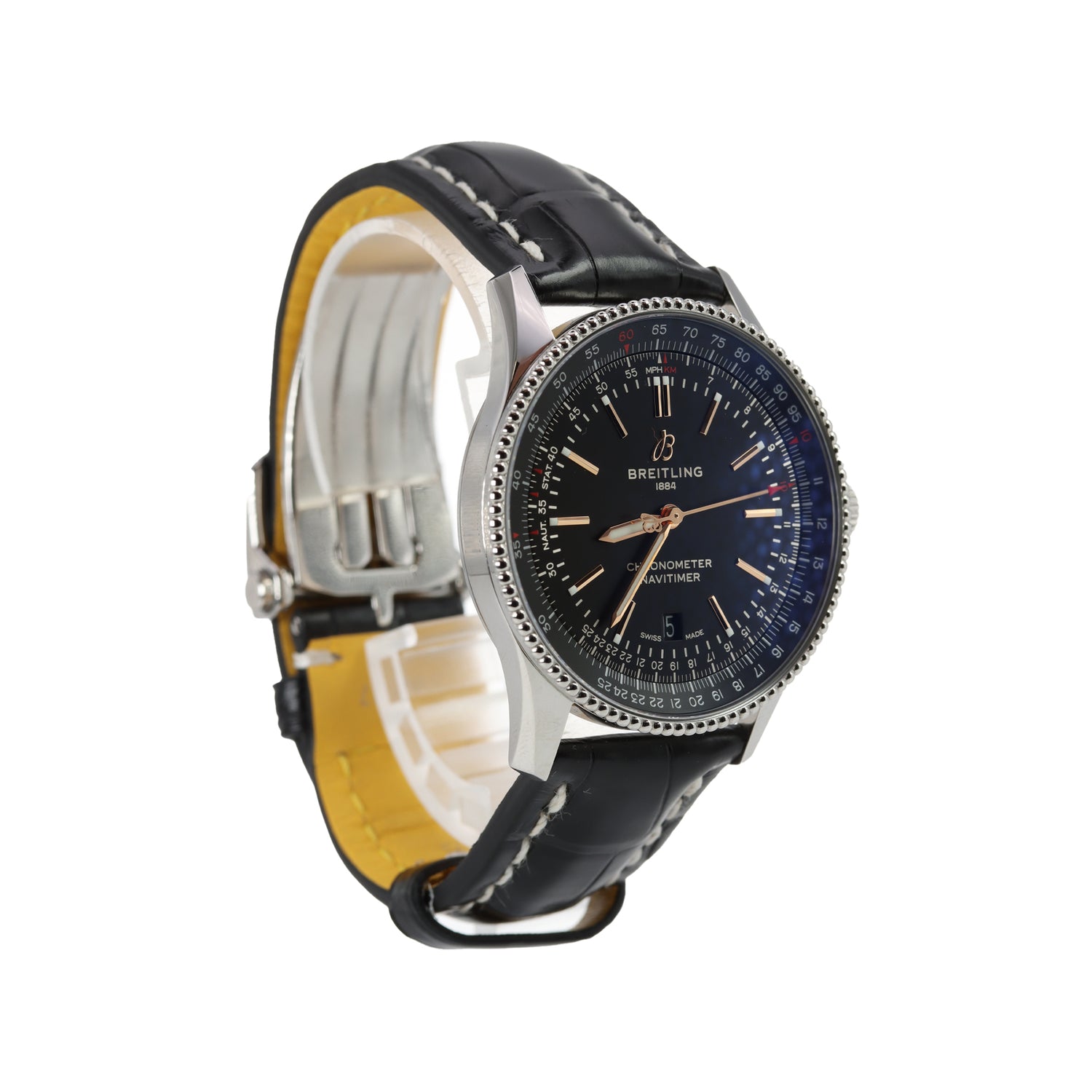 #3 Breitling Navitimer
Mission: A triple orbit of earth
First launched: 1954
Worn by: Scott Carpenter 
Starting its life as a pilots' watch, the Breitling Navitimer became the first Swiss wristwatch in space in 1962. (Although from our research, we've found some disagreement over what the first watch in space actually was, with TAG Heuer also claiming the title for itself.)
Either way, this Breitling, worn by Carpenter, managed to circle the earth three times on the Aurora 7 spacecraft. It performed incredibly well in space but was later damaged by water from the Atlantic. Features such as a 24-hour dial for differentiating between AM and PM, and a circular slide rule bezel for making calculations, made this the preferred watch for so many pilots and astronauts.
#4 TAG Heuer Carrera Calibre 1887 SpaceX
Mission: International Space Station (ISS)
First launched: 2012
Worn by: Elon Musk
TAG Heuer partnered with SpaceX to celebrate the 50th anniversary of John Glenn becoming the first American in outer space. Launched in 2012, only 2012 pieces were made - each individually numbered and engraved.
The limited-edition Carrera Calibre SpaceX was inspired by the stopwatch Glenn wore on his 1962 journey (a modified Heuer 2915A). It was also tested onboard SpaceX's Dragon capsule, the first commercial spacecraft to visit the ISS in 2012.
Inspired by the past and updated with a modern design and 50-hour power reserve, the TAG Heuer Carrera Calibre 1887 SpaceX is a notable icon in modern space travel.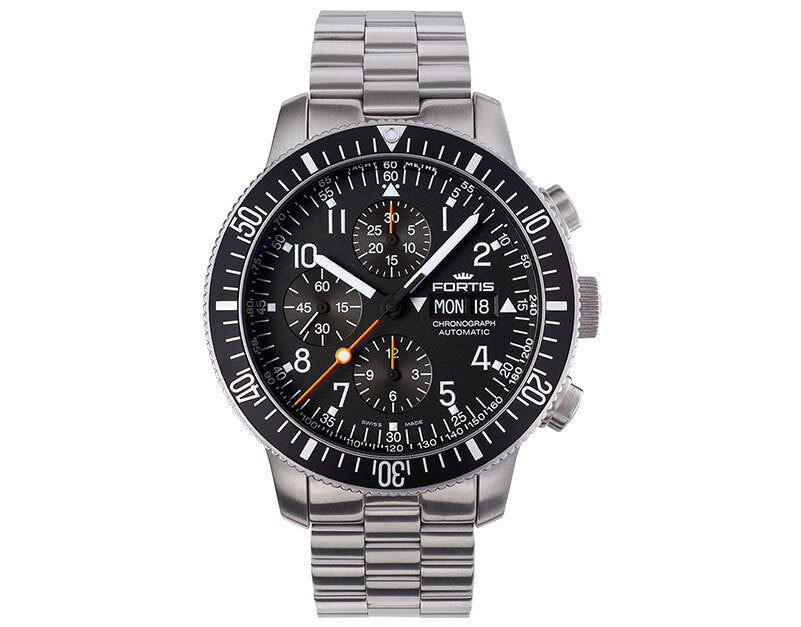 #5 Fortis Cosmonauts Chronograph
Mission: Mars, ISS, MIR
First launched: 1994
Worn by: Sergei Zalyotin
Technically the world's only "official" space watch, the Fortis Cosmonauts Chronograph was designated by Russia's space agency, ROSKMOSMOS, winning a 25-year contract in 1994. During those 25 years, the watch visited the MIR and ISS. Today, Fortis is the official watch brand of the upcoming AMADEE Mars Missions, and has partnerships with the Austrian Space Forum and Swedish Space Corporation.
Although it's a brand that flies under the radar on so many watch lists, Fortis has proved its worth in space travel time and time again. So far, it's made 100,000 orbits around Earth and has achieved the longest stay in weightlessness of any watch.
#6 Bulova Accutron Astronaut
Mission: U.S. Space Program, Earth orbits
First launched: 1962
Worn by: Gordon Cooper, John Young, Virgil "Gus" Grissom, Wally Schirra, Dave Scott
Before OMEGA flew in and dominated the space watch market, Accutron looked set to be the go-to timepiece for space travel. It was given to test pilots and spies by U.S. Government agencies in the early 1960s, for missions where precision was critical.
The Bulova Accutron Astronaut watch boasts a unique movement that makes it resistant to the high g-forces and extreme temperatures astronauts are up against. 
Bulova reimagined the classic in 2023, expanding it from 38mm to 41mm, installing a new Swiss-made SW330 GMT movement and creating a distinctive day/night bezel. Just 300 pieces were made, making this a real collector's item.
#7 OMEGA Speedmaster X-33 Marstimer
Mission: Mars
First launched: 2022
Worn by: No one we know of yet, but there have been connections to Buzz Aldrin
Space's most famous watch was redesigned in 2022. The Speedmaster X-33 now flies on most modern missions and has evolved with a new, more robust movement. Qualified by the European Space Agency, the Marstimer iteration is able to track time on Earth as well as the Red Planet (where each day lasts 39 minutes longer than on our own planet).
The X-33 Marstimer hasn't visited Mars yet, but when the mission does take off, it's likely OMEGA will be on board. This timepiece is packed with functions for people working on space research, including a solar compass to find true north on both planets. 
Looks-wise, it features an anodised aluminium colouration (as a red/orange hue) that's been compared to the dust found on Mars' surface.
The space watches listed here are out-of-this-world (we resisted that phrase for this whole blog) examples of horological history. Book an appointment at Trilogy Jewellers to browse our selection of pilot and astronaut watches, or call 0203 9298227 to discuss our sourcing service.
TRILOGY ON YOUTUBE
Follow Trilogy on YouTube for regular updates and reviews of luxury watches and jewellery.