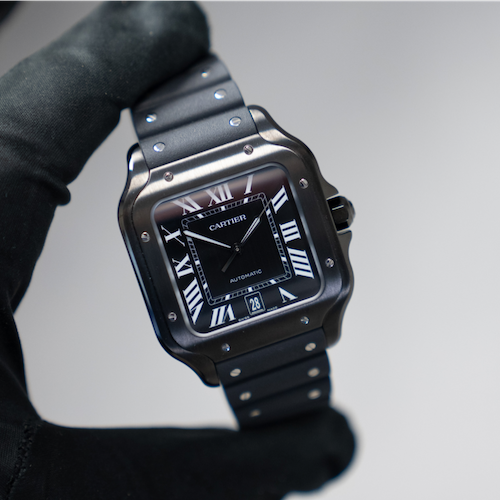 The Swiss savoir-faire: used men's Cartier watches
From Cartier classics to only recently-released models, we specialise in the procurement of second-hand mens Cartier watches, ensuring that each one is fully-serviced and certified. We can work with you to find the perfect brand new or pre-owned Cartier wristwatch without compromising on quality. 
An invaluable investment, each Cartier watch stylishly symbolises success, power and creativity, with artistic connections making it the go-to choice for thespians, photographers and designers around the world. By discovering your own identity with a second-hand men's Cartier watch, you'll also become a part of the legendary legacy itself. 
New & second hand Cartier women's watches
Specialists in steel, gold and diamonds, Cartier is the ultimate symbol of sophistication and glamour, making it an ideal choice for the elegant, independent and successful woman. From the understated to the extravagant, we source and select high-quality second hand Cartier womens watches, each with their own story to tell. 
Experts in unearthing rare gems as well as the most in-demand accessories, Trilogy Jewellers can help you find the perfect used Cartier womens watch, adding a personal touch to the ultimate in-store experience. Beloved by talented actresses and models throughout the generations, the Cartier brand is inherently authentic and remains rooted in the world of luxury watches.
Embellished accessories & tasteful timepieces in London
From our prime position in the UK's epicentre for luxury watch and jewellery procurement, we are perfectly placed for access to the world's most-wanted watches and enamoured accessories. Operating from our high-end Hatton Garden store, we enjoy access to exclusive markets and enjoy invaluable insights into the latest and upcoming trends. Specialising in pre-owned luxury watches, we also source and create high-end jewellery which could be a great option for those seeking something special. 
To book an appointment with us and secure your dream Cartier watch, we invite you to get in touch. 
TRILOGY ON YOUTUBE
Follow Trilogy on YouTube for regular updates and reviews of luxury watches and jewellery.