The history of Vacheron Constantin
Our brand's philosophy is to meet expectations by designing timepieces as technically impressive as they are aesthetically stunning." - Vacheron Constantin
The Vacheron Constantin story began in 1755. 24-year-old Jean-Marc Vacheron, an independent watchmaker in Geneva, was the visionary behind what was set to become the longest-standing luxury timepiece brand in history.
Watchmaking excellence was the quest from the beginning, starting with Jean-Marc's first pocket-watch, which was signed J.M: Vacheron A GENEVE. Two generations later, with Jean-Marc's grandson Jacques Barthélémi Vacheron managing the enterprise, more complicated watches came out of the Vacheron Constantin Maison. From musical watches to horological complications, incredible technical mastery emerged.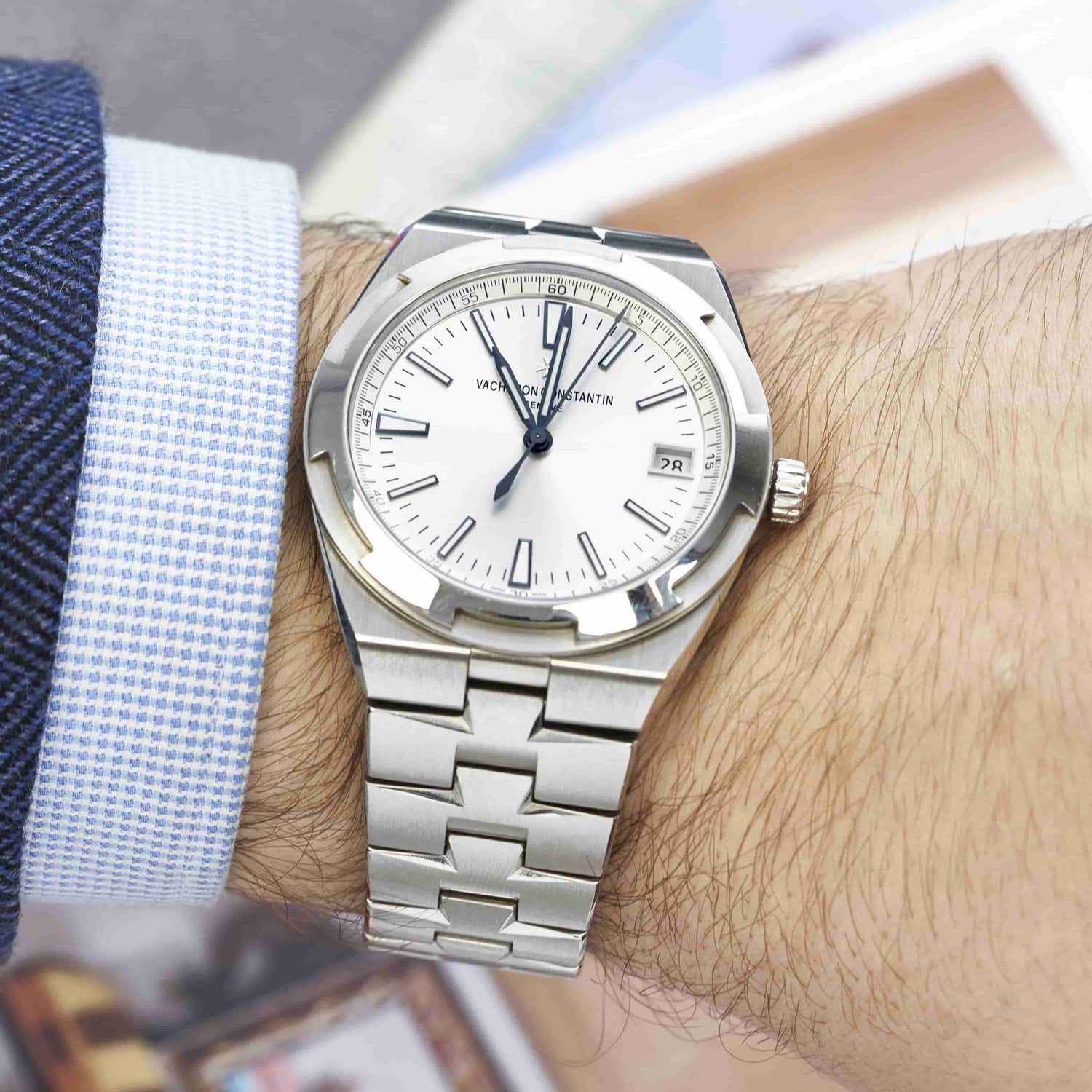 Growing in Demand
1819 saw a partnership between Jacques Barthélémi Vacheron and François Constantin materialise. The company got a new name — Vacheron et Constantin. Seven decades later, the house released an original lady's wristwatch, the first-ever rival of the pocket watch. The first boutique opened its doors in 1906, and Vacheron Constantin watches were in demand amongst the likes of Queen Mary of Romania, brothers Henry and William James, and Prince Napoleon.
Between then and now, Vacheron Constantin was responsible for the first world time watch with 31 time zones, an ultra-thin wristwatch and an anti-magnetic chronograph with a tachometer scale.
The Vacheron Constantin watches unveiled at Watches & Wonders 2023
In 2022, Vacheron Constantin brought us the Historiques 222. It was a timepiece hailed as one of the best (if not the best) luxury watches of that year and was snapped up by people like Brad Pitt. The Historiques 222 quickly became a cult classic, partly thanks to its modelling off of vintage Vacheron Constantin models.
The only problem when you come up with a timepiece this good? Following suit the next year. At Watches & Wonders 2023 in Geneva, however, the brand unveiled an impressive list of new Vacheron watches. This included the Overseas Moonphase Retrograde Date, Overseas Self-Winding (four versions), Patrimony Retrograde Day-Date, Traditionnelle Tourbillon Retrograde Date Openface, and Les Cabinotiers Dual Moon Grand Complication.
We saw timeless designs reimagined through a fresh, contemporary lens. The Traditionnelle, for example, embodies strict horology traditions while managing to stay unarguably modern. The introduction of an intense green dial against a gleaming platinum case and slender profile is a thing of beauty. The Overseas collection gets its first retrograde display alongside a precision moon phase, bringing "a new level of poetry to this elegant watch."
Each 2023 release is an example of VC's expertise, which has been carefully honed over the last 267 years.
Frequently Asked Questions about Vacheron Constantin Watches
Why are Vacheron Constantin watches so expensive?

Staying true to its 267-year-old roots, Vacheron Constantin crafts, decorates and tests every model in its Geneva workshop. This in-house commitment is rare - yet highly sought-after - today. And, since this promise still rings true, every Vacheron Constantin, vintage or modern, holds its value relatively well. This is especially true among the Overseas models and some rare high-complication pieces.

On top of this, Vacheron Constantin has earned a place in the Holy Trinity of watches. So, although it's not as mainstream as Patek Philippe or Audemars Piguet, you know Vacheron Constantin watches are ultra-high-end. It sets the standard in luxury watchmaking and continues to break records. It was also the first watchmaking company to be awarded the Diplome de Prestige de la France. At the time, this was a huge honour from the French Government.
Who owns a Vacheron watch?

In a step to communicate Vacheron Constantin's uniqueness, the brand recently introduced "inspirational incarnations and through them relevant creative collaborations." In other words, they select ambassadors that embody the watchmaker's qualities — creativity and rigorous discipline.

Its current campaign "One of Not Many" features musician Benjamin Clementine, photographer Cory Richards, designer Yiqing Yin and dancer Chan Chun Wai.

Off the screen, just some of the famous people that wear Vacheron Constantin watches are Tom Cruise, Marlon Brando, Kate Bosworth and back in 1804, Napoleon Bonaparte, Emperor of the French Empire.
Why buy new and pre-owned Vacheron Constantin at Trilogy Jewellers?

A Vacheron watch is on the wish list of many seasoned collectors and investors. This should come as no surprise, given the prestige, rarity and timeless designs that comprise every collection. With its long-standing tradition of striking, Art Deco-inspired pieces, and the incredible value that's packed into every timepiece, we'd argue that no good portfolio is complete without a Vacheron.

You can buy pre-owned Vacheron Constantin watches online here at Trilogy Jewellers. Our experts have curated (and quality-assured) some of the most sought-after pieces. You can be confident that every watch has been serviced and comes with a Trilogy warranty. So, even a vintage Vacheron Constantin from eras gone by comes with that priceless reassurance.

You can also find timepieces from luxury brands such as Jaeger-LeCoultre, IWC and Breitling.
Where can I buy a Vacheron Constantin watch?

Trilogy Jewellers is the home of new and pre-owned Vacheron Constantin watches, available to buy both online and in-store. We're based at Hatton Garden in London and invite you to book a consultation with Frankie and the team. We can talk you through each timepiece, listen to your wishes, and help you find the perfect Vacheron watch.

If you've been searching for a particular hard-to-find watch, we could be your secret weapon. Our fast sourcing service means we can locate most rare watches in just a day or two. Call 0203 929 8227 to find out more.
TRILOGY ON YOUTUBE
Follow Trilogy on YouTube for regular updates and reviews of luxury watches and jewellery.