Sorry, we don't have any OMEGA Watches available just now, but we can always help you find what you're looking for with our Watch Sourcing Service. Click here to get started.
The history of OMEGA
From humble beginnings to the go-to luxury brand of watch connoisseurs. OMEGA's history began in a small Swish workshop in 1848. The workshop was opened by 23-year-old Louis Brandt, a man passionate about precision, accuracy and bringing the highest-quality watches to Switzerland. And shortly after, to the whole of Europe.
In 1879, Louis' sons took over the family business. Inspired by their father's passion for watchmaking, sons Louis-Paul and Cesar would go on to change the entire industry. The years that followed saw a number of incredible technological advances, from the first series-produced calibre to the first minute-repeater for the wrist.
A Developing Range
The company wasn't officially named OMEGA until 1894, as its stellar reputation spread across the globe. During the first half of the 1900s, OMEGA ventured into sports, becoming the official timekeeper at a range of events - from balloon racing to the Olympics - due to its accuracy and precision. The brand went on to provide timekeeping for medical staff on battlefields and in hospitals, and in 1948, introduced the world to electronic sports timekeeping.
The now-iconic Seamaster marked the brand's centenary in 1948, followed by product lines such as Constellation, Speedmaster and De Ville. Since then, OMEGA watches have dressed presidents, NASA, Antarctic explorers and James Bond.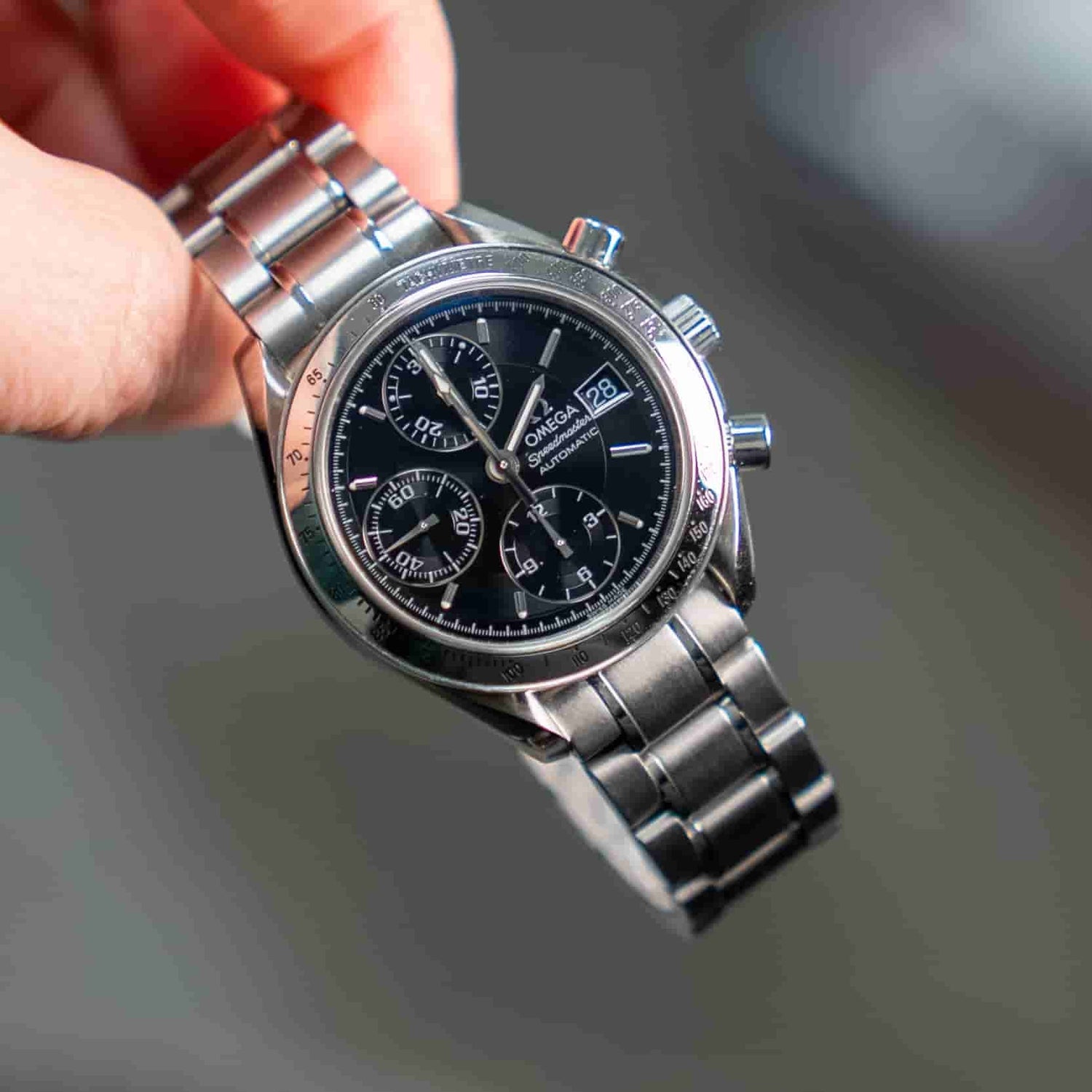 The latest TUDOR watches for sale at Trilogy
Explore new and pre-owned OMEGA watches at Trilogy Jewellers. Browse online or visit our Hatton Garden store to experience the luxury of OMEGA for yourself.
With our same-day sourcing service, Trilogy Jewellers can become your secret weapon in the timepiece space. Whatever you're looking for - whether for your personal collection or investment portfolio - we're confident we can find it within a day or two. Just call 0203 929227. 
*Please note that any information on this page should not be taken as investment advice.
Frequently Asked Questions about OMEGA Watches
Who wears OMEGA watches?

Some of the biggest stars on-screen, on the radio, on the sports field and in the royal family have been known to wear OMEGA watches for women and men. This year alone, actors Jamie Dornan, Brendan Fraser and Eddie Redmayne wore OMEGA watches to the BAFTAs.

Taking a dip into recent history, we know George Clooney is partial to his OMEGA Seamaster Aqua Terra and that brand ambassador Cindy Crawford chooses an OMEGA Constellation. Prince William wears a Seamaster 300M (said to be a gift from Princess Diana) and Nicole Kidman is often seen on red carpets wearing one of her vintage OMEGA watches. 

The face that first comes to mind when we think of OMEGA watches, however, is 007's. The OMEGA Seamaster has been a key part of James Bond's mission kit since 1995, and the spy is the inspiration behind many of the brand's finest designs. In 2021, OMEGA celebrated 60 years of James Bond with its Seamaster Diver 300M 007 Edition — "built from tough titanium for the most action-packed situations."
How much does a vintage OMEGA watch cost?

The cost of vintage OMEGA watches is primarily determined by the model, condition, market demand and time period. In general, vintage OMEGA watches created before 1968 hold a higher value because of their unique details.

Right now, you might pay anything from under £1000 to around £2.5 million, the cost that an original OMEGA Speedmaster from 1957 sold for at an auction in 2021.

An authentic pre-owned OMEGA watch holds its value thanks to its durability, accuracy and functionality. You can check features like the serial number, logo and hand movement to confirm authenticity. Or, if you'd like us to value your OMEGA watch, ask about our valuation service.

We buy and sell timepieces from a variety of luxury brands, including Rolex, TAG Heuer and Breitling.
Why buy an OMEGA Seamaster?

In June 2023, OMEGA celebrated 75 years of Seamaster. With Mykonos as the backdrop (a candlelit dinner on the beach, no less), the brand talked exploration, conservation and the launch of a new range of watches with Summer Blue dials.

Offering "precision at every level", the Seamaster series is built for divers and office-dwellers alike. With a price increase of about 15% between 2016 and 2018, Seamaster remains affordable compared to other luxury watches, while consistently performing well in the markets. Minimal investment and maximum returns make this an iconic watch that's worth even more than its impressive namesake.

In most cases, you can buy a new Seamaster and sell it as a pre-owned OMEGA watch in the medium term at an increase. Specifically, the Seamaster Diver 300M is one of the best luxury dive watches out there, balancing stacks of character with incredible details.
Are OMEGA watches worth the money?

Both OMEGA ladies' watches and men's watches are well-respected among collectors and enthusiasts. As a brand that has transformed horology through the years while pushing the boundaries of technology today, its timepieces are expected to last through the generations. 

The OMEGA Seamaster and Speedmaster are generally considered safe investments. Careful engineering, durable materials and a strong brand mean they tend to increase in value over time, while being consistently enjoyable to wear. And, as demand for these timepieces typically stays high, they usually fare well in the market on a medium-long-term basis*.

An OMEGA watch that's well looked after can live well beyond its seventies. Its value lies in the durability of metals used (precious gems protected by ceramic and powerful titanium), hand-assembled parts, and centuries of engineering innovation.
TRILOGY ON YOUTUBE
Follow Trilogy on YouTube for regular updates and reviews of luxury watches and jewellery.