Sorry, we don't have any TAG Heuer Watches available just now, but we can always help you find what you're looking for with our Watch Sourcing Service. Click here to get started.
The history of TAG Heuer
TAG Heuer's legacy emanated in 1860. Since then, the brand "has embodied avant-garde, precision and bold style." 20-year-old Edouard Heuer founded the company and from the beginning, knew it would rely on both technical innovation and family leadership. 
Edouard set a pioneering tone from the start. In 1869, his first patent changed the course of watchmaking — he created a crown-operated, keyless winding system. This dissolved the need for a separate key to wind a watch, and was an innovation that was very well-received in the industry.
1882 was the year that TAG found its connection to the sporting world. Edouard Heuer recognised the need for accurate pocket chronographs in horse, greyhound, on-road and on-water racing. The brand began producing these in large quantities, as a TAG Heuer chronograph became iconic amongst sportsmen. By 1911, Heuer was designing time-selling tools for air transportation.
Throughout the following decades, TAG Heuer expanded into wrist chronographs and became a leader in the field. The brand became the go-to for those that needed accurate timekeeping, from hunters to sailors and fishermen, and of course, racecar drivers. 
Continuing to innovate at every step, TAG Heuer watches brought us the first automatic chronograph, vibrant colours and outrageous shapes, and the official timing system used by the Ferrari racing team - the Centigraph.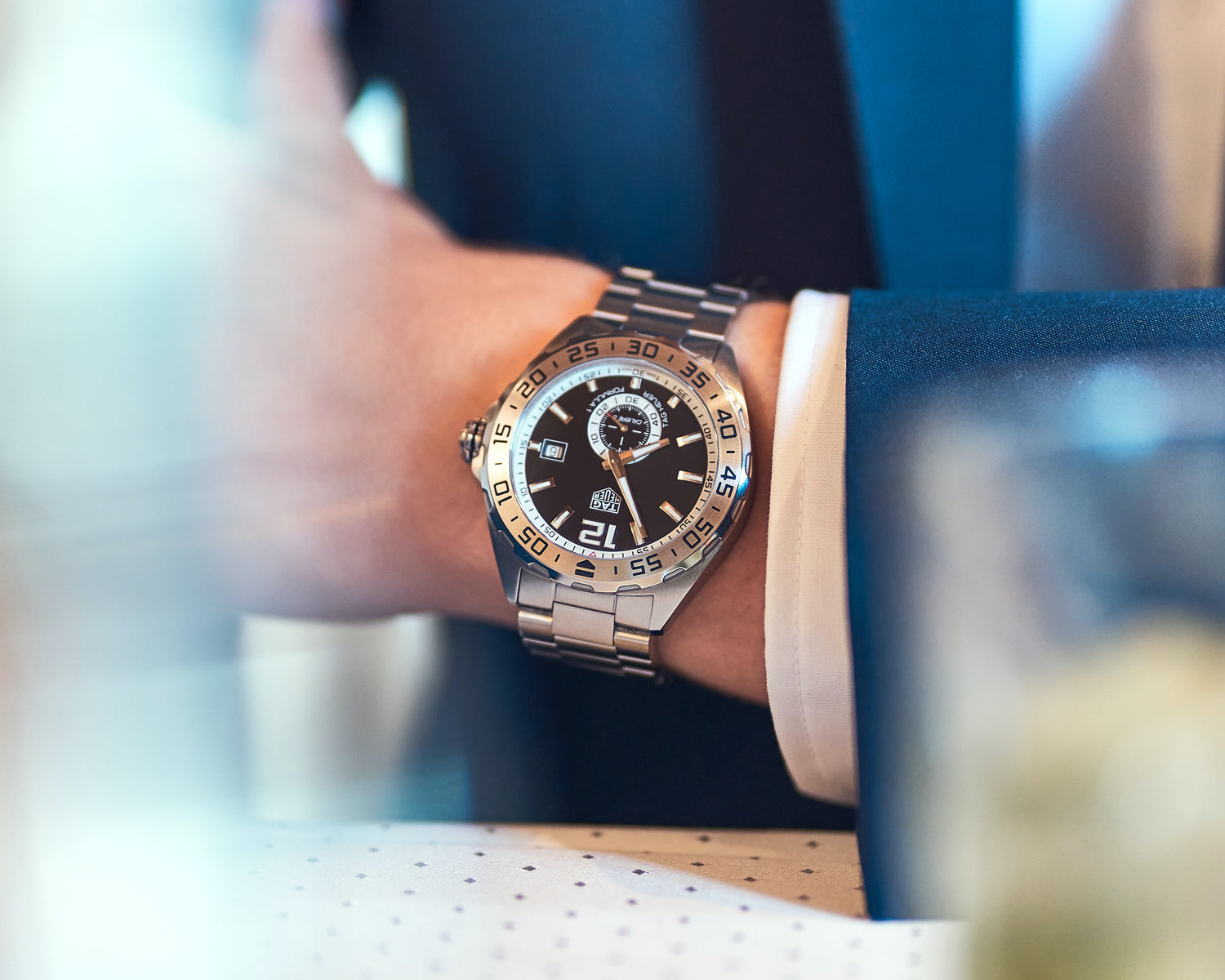 The TAG Heuer Formula 1 collection
TAG Heuer's link with the racing world was established early on. From the moment TAG Heuer became official, the brand chose to feed its relationships with Formula 1 and other major names in motorsports.  Today, it's the Official Timekeeper for Red Bull as well as a Formula 1 sponsor.
Fernando Alonso, Lewis Hamilton and Juan Pablo Montoya are just some F1 drivers sponsored by TAG. 
It makes sense then, that TAG Heuer watches include a Formula 1 collection. Inspired by motor racing, the collection is home to TAG watches for men and women "who dare live life at full speed." The collection features sporty, often colourful, models available at an accessible price point. Since debuting in the 80s, the Formula 1 arose at the edge of the quartz crisis. Its reliable time-only movement and crowd-pleasing design meant the watch thrived. It became a go-to for newcomers, long-time luxury watch connoisseurs, and professional racecar drivers. 
Frequently Asked Questions about TAG Heuer Watches
Does a TAG Heuer watch last a lifetime?

Every men's and women's TAG Heuer watch is synonymous with quality. The brand creates durable, technically-complex pieces for land, sea and space, so you can expect a reliable timepiece that can withstand everyday life. And a little more.

With the proper care, TAG Heuer watches have an impressive life expectancy. TAG watches have been known to last a century or two, making them the perfect gift to pass down to younger generations in the family. 

To keep your watch running accurately, avoid exposing it to chemicals like soap, detergents and cosmetics. And, because water resistance can't be permanently guaranteed, have your TAG watch  checked every couple of years by an authorised service centre if you regularly expose it to water. As a general rule, TAGs should be overhauled every five to six years by a professional. You can take care of cleaning and winding at home.
What's the most expensive TAG Heuer watch for men?

TAG Heuer watches for men vary wildly in price. From the cheapest model (a TAG Aquaracer) at around $1800 USD to the most expensive TAG watch, the TAG Heuer Carrera Plasma Tourbillon Nanograph, that's worth around $346,000. This model towers above other TAG Heuer watches in price for a few reasons.

First, it's kitted out in light-reflecting, lab-grown diamonds, which are used in ways never seen before in watchmaking. As an example, the entire crown is a whole diamond. 

"Lab-grown diamonds allow us to innovate and experiment with this exceptional material, and this opens up a new realm of possibilities for designers, watchmakers and engineers."

Edouard Mignon, Chief Innovation Officer at TAG Heuer

Beyond its handsome aesthetic, the movement inside the Carrera Plasma Tourbillon Nanograph is TAG Heuer's in-house calibre, Heuer 02 Tourbillon (or Heuer 02T). It uses rare carbon-based hairspring technology, and there's an open tourbillon window that doubles up as the subsidiary seconds dial. With a movement operating at 4Hz, with 65 hours of power reserve, this is one of the most accurate, reliable tourbillon movements on the market.
Which famous people wear TAG Heuer watches?

TAG creates timepieces for people who take a bold approach to life. For decades, we've seen TAG Heuer watches for men and women that embody exactly that. 

When watch brand ambassadors became a thing in the 90s, TAG's first ambassadors were recognised as Steve McQueen and Ayrton Senna. Since then, we've seen legends such as Ryan Gosling, Naomi Osaka, Patrick Dempsey and Sydney McLaughlin-Levrone take up the ambassador post. 

Official partnerships aside, we know that Brad Pitt is partial to his TAG Heuer Monaco, Matt Damon sports a Link Chronograph on the set of The Bourne Identity, and Barack Obama has been spotted wearing the TAG Heuer 1500. Moving swiftly over to women's TAG watches, Cara Delevinge modelled the Carrera line in 2015, and Gen Z icon Mia Regan has been seen wearing the TAG Heuer Aquaracer.
Where can I buy a TAG Heuer watch?

Browse TAG Heuer watches online at Trilogy or visit us at Hatton Garden in London. You'll find a collection of new and pre-owned TAG Heuer models, that have all been quality-assured by our experts and come with a Trilogy warranty. You can also find Audemars Piguet watches, Breitling watches and Rolex watches.

If you can't find the watch you're looking for, lean on our unparalleled sourcing service. We can usually find even ultra-rare luxury timepieces within a day or two — so we can become your secret weapon as you build your collection.
TRILOGY ON YOUTUBE
Follow Trilogy on YouTube for regular updates and reviews of luxury watches and jewellery.