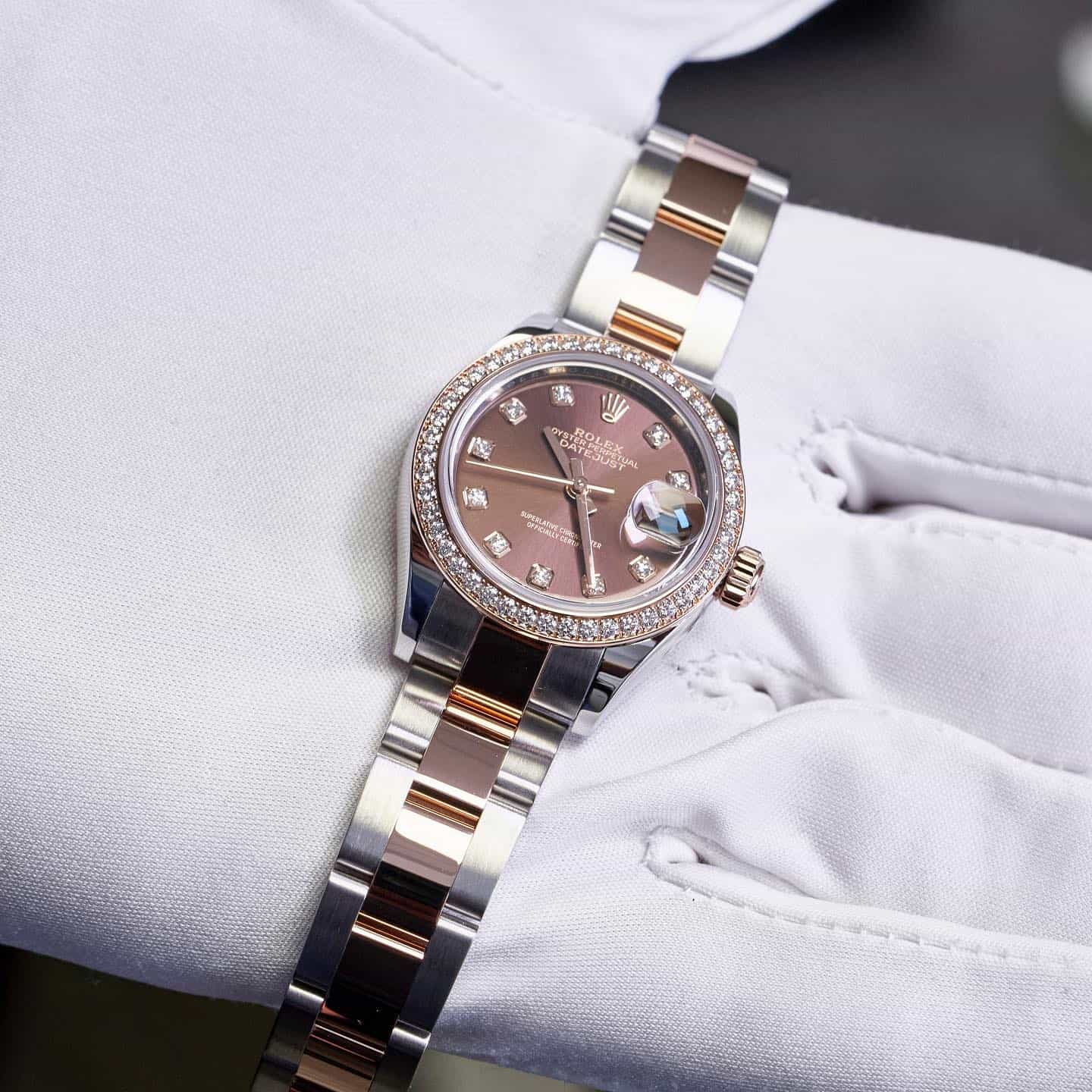 The history of women's designer watches
Swiss jewellery and watch magazine, Revue Internationale de l'Horlogerie wrote in 1916 that women didn't need precision watches. According to the publication, they were "more interested in karats and lavish adornments." In actuality, it was women that had the greatest influence in the early days of the wristwatch.
Around the end of the 19th century, Queens' wrists were adorned by wristwatches, which were then viewed as the domain of the female. It took around another century for men to latch onto the wristwatch's potential as both a fashion accessory and a hunting companion.
As watches became more ingrained within royalty, figures such as Marie Antoinette and Queen Caroline Murat began collaborating with designers to have pieces commissioned. Breguet and Patek Philippe became the first big names in the women's luxury watch space, presenting their timepieces to the Queen of Naples (in 1810) and the Countess Koscowicz of Hungary (in 1869), respectively.
Ladies Luxury Watches Today
In the decades that followed, brands like Rolex tapped into the potential of designer ladies watches, with Patek Philippe dominating the market around 1997. The brand excelled in crafting complications that fit into a smaller case, launching a women's model with a perpetual calendar in 2005.
Today, women's watches are a core part of the modern watch industry, with innovations to rival both men's watches and unisex watches. 
Different types of ladies watches
There's a ladies luxury watch to suit every woman's wrist. The most obvious distinction is between leather straps vs stainless steel bracelets, but there are many other types of women's designer watches for sale.
Bracelet watches, for example, are usually available in yellow, white or rose gold—with some two-tone timepieces bringing together any combination of these. For evening wear (or for a bit of luxury in your day-to-day) a ladies watch with diamonds is the perfect accessory. The Rolex Datejust 26, Cartier Tank Française and TUDOR 1926 are all notable examples of women's designer watches with diamonds.
Frequently Asked Questions About Ladies Watches
Which luxury watch brand is best for ladies?

Certain brands spring to mind when you think about designer ladies watches. The best brands for women manage to fit technically-sophisticated calibres into smaller cases, on slimmer profiles and softer materials. 

Some of the most popular luxury watch brands for women include Cartier (as worn by the Duchess of Cambridge), Omega (as championed by Cindy Crawford and Nicole Kidman), Chopard (Rihanna) and Rolex (a favourite of Victoria Beckham).

Watches and Wonders 2023 showcased the latest most exciting women's designer watches on sale, but what got the industry talking the most? First up, the Cartier Santos-Dumont Skeleton gets complicated with its complications. Cartier stripped its 1904 Santos-Dumont back to the bare bones for a full look at the new calibre 9626 MC automatic movement. For more understated luxury, the Grand Seiko Elegance White Linen is pure Japanese excellence hosted in a small package. Its diamond-set case is just 27.8mm in diameter.
Which women's luxury watch should I invest in?

TUDOR is the sister brand of Rolex watches, founded by the very same Hans Wilsdorf. Wilsdorf set out to create more affordable versions of Rolex, that were just as reliable and beautiful. Far from just becoming a poor man's Rolex, TUDOR watches for men and women have grown in popularity and it's become a covetable brand in its own right.

As the younger sibling, TUDOR gets more experimental with its style — we've seen bronze, titanium and ceramic cases instead of the stainless steel and precious metals that Rolex tends to stick to. 

The main difference, though, is the price point. TUDOR watches for sale start at $2300 for a women's Clair de Rose, but you won't pay less than $5700 for an entry-level Rolex. The most expensive TUDOR watch ever sold was a vintage Big Crown Submariner ref 7924, going for $162,500 at auction. In 2017, a Rolex sold for $17.8 million.
How do I choose a ladies' luxury watch?

Want to buy a ladies' luxury watch for yourself or as a gift? Ask a few questions first.

First up, what's your wrist size? This goes beyond comfort. As a general rule, slim watches are designed for thinner wrists; thicker watches can look too bulky. Proportion matters in optimising a watch's beauty. Ask yourself style-based questions, too. Would you prefer a classic or contemporary watch? Bold or understated? Something feminine or something that could be unisex? 

Finally, what's the purpose of this particular watch? Will it be worn day-to-day or just for special occasions? Will it be worn outside a lot, during sport, or at work? This can help you hone in on the must-have features, such as water resistance, style and durability. 
Where can I buy women's designer watches?

Book a consultation at Trilogy Jewellers in Hatton Garden, London, and our team will help you select the right ladies luxury watch from our stunning collection. Otherwise, explore our women's designer watches for sale online. With pioneering brands such as Cartier, Rolex and Audemars Piguet, you know you're investing in a new or pre-owned watch that's built for quality.

If you've got your eye on a watch that isn't in our existing collection, just ask about our sourcing service. We can usually locate luxury timepieces - even those ultra-rare ones that other jewellers can't find - in a day or two.
TRILOGY ON YOUTUBE
Follow Trilogy on YouTube for regular updates and reviews of luxury watches and jewellery.