The World's Deepest Watches: The 7 Best Diving Watches, Ranked By Us
Sounds niche, but diving watches aren't the sole domain of professional underwater explorers. Their over-engineering in terms of water resistance makes them highly coveted by anyone who might find themselves near a body of water. Of course, many have been to the ocean's murky depths and come out unscathed - with some diving watches boasting a water resistance of 1km.
From Rolex to TAG Heuer, we've ranked the 7 diving watches worth knowing about.
#1 Rolex Submariner
Water resistance: 300m
First launched: 1953
Worn by: Sean Connery as James Bond in Diamonds Are Forever (1971)
As one of the world's most recognisable diver watches, the Rolex Submariner deserved a spot on the list. The watch provides exceptional underwater performance; it was tested under extreme conditions by the US Navy, no less. Plus, it holds its value well and looks good enough for dry land.
The Submariner's features set the standard for Rolex's future divers' watches. A 60-minute graduation lets divers monitor their time below the surface, and a luminescent display delivers visibility in low-light environments.
Buy a Rolex Submariner (1992) or a Rolex Submariner (2023).
#2 OMEGA Seamaster
Water resistance: 300m
First launched: 1948
Worn by: Pierce Brosnan as James Bond in GoldenEye (1995)
The OMEGA Seamaster, AKA the James Bond watch, was originally built to withstand challenges of any altitude - whether in the skies or below the surface of the ocean. It was inspired by the underwater watches worn by the British Military during WWII as well as the rubber gaskets on submarines. That's how the rubber o-ring, there to keep water out, was conceptualised.
The Seamaster is an undeniable tool watch that still manages to float at the intersection of dressy and sporty. Luminescent hands and hour markers, and a helium escape valve contribute to its use for saturation diving by professional divers.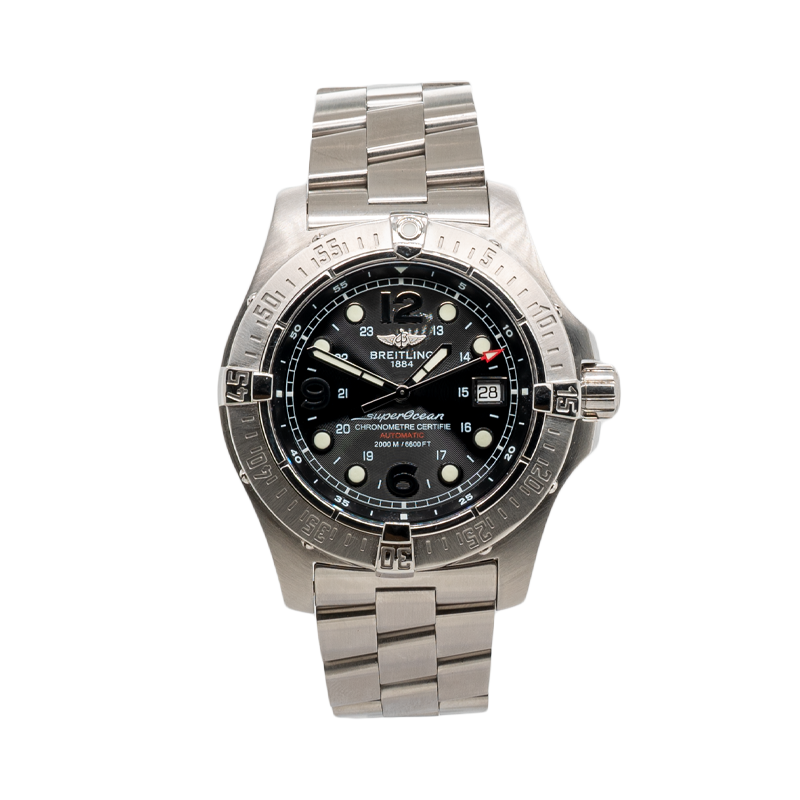 Breitling Superocean
Water resistance: 300m
First launched: 1957
Worn by: Luke Evans as Charles Cavendish in Murder Mystery  (2019)
Proving that Breitling is just as equipped to handle deepsea diving as aviation explorations, the Superocean is a handsome luxury watch designed for professional and military divers. It's available in case sizes from 36mm to 48mm and available in a range of colours, for a kind of versatility that adapts to any situation. As per Breitling's orders, that includes diving, surfing, swimming and hitting the beach bar.
Breiling opted to trim the fat and remove any feature that wasn't necessary, iterating the Superocean over the years to emphasise the features that are. For example, luminous material, depth ratings and a helium escape valve - for instant readability and exceptional underwater performance.
#4 TUDOR Pelagos
Water resistance: 500m
First launched: 2012
Worn by: Brand ambassador David Beckham
Developed by Rolex, the TUDOR Pelagos makes a huge splash in this list thanks to its 70-hour power reserve. It was created in collaboration with the French Marine Nationale (French Navy) for underwater navigation, and picked up the award for 'Best Diver's Watch' at GPHG in 2022.
The Pelagos line-up contains some of the most complete traditional mechanical divers' watches on the market. A streamlined watch that looks great on the wrist, it comes with the signature TUDOR Snowflake hour hand, with grade X1 Swiss Super-LumiNova® luminescent material filling. Whether diving deep or just traversing the city's streets, this watch offers incredible value, ringing in at under $5000.
#5 TUDOR Black Bay
Water resistance: 200m
First launched: 2012
Worn by: Lady Gaga
Made to meet the demands of modern divers, with a little vintage charm, the TUDOR Black Bay was released after the TUDOR Submariner was discontinued in 1999. Ensuring the Submariner's memory didn't fade into existence, the Black Bay borrows some cues from it. It features the iconic white Snowflake hands, boasting a power reserve of 70 hours.
The Black Bay Ceramic, Black Bay Bronze and Black Bay 58 all feature dials inspired by TUDOR watches of the 1950s. The Black Bay range as a whole has been hailed as the concept that put TUDOR into its own spotlight, emerging as more than just Rolex's little brother.
#6 TAG Heuer Aquaracer Professional 1000 Superdiver
Water resistance: 1000m
First launched: 2022
Worn by: Uma Thurman
TAG might not be the brand you expected to see on this list, but we like the way the Aquaracer Professional 1000 Superdiver takes you in and out of the water. Master more depth with this luxury diving watch made to endure just about every element. 
Made from grade 2 titanium, this iteration is made for professional divers, going deeper than the 300 collection without ever cracking under the pressure. The dial is designed for maximum legibility with a robust yet lightweight 45mm case.
#7 Seiko Prospex Marine Master
Water resistance: 300m
First launched: 1990s
Worn by: Brand ambassador Paul de Gelder 
Seiko created Japan's first diving watch in 1965 but the Marine Master story didn't start until the 90's. We included this in the list for the world-class movement, high quality and features Seiko has packed in, considering the low price point of this range. Seiko Prospex Marine Master includes a series of timepieces leading the way in terms of affordable diving watches.
Designed for saturated diving, the range boasts a 50-hour power reserve and Lumibrite on the hands and indices for legibility in low-light scenarios. An addition of jewels makes for a stylish transition from water to land.
Book an appointment at Trilogy Jewellers to browse our best diving watches or call 0203 9298227 to discuss our sourcing service. If there's a watch out there on your wishlist, we're confident we can get our hands on it for you.
TRILOGY ON YOUTUBE
Follow Trilogy on YouTube for regular updates and reviews of luxury watches and jewellery.