Second hand Audemars Piguet, sourced for you
Based in London's Hatton Garden, Trilogy Jewellery has valuable connections the world over. Our position in the high-end watch and jewellery sector means we're able to source almost every new or used Audemars Piguet watch within 24 hours - even the ultra-rare and exclusive pieces.
A brand that delivers such a faultless blend of tradition and innovation deserves a place in every collector's portfolio. Whether you're searching for your next investment or you just want to upgrade the piece on your wrist, you'll find one of the UK's most extensive ranges of AP watches at Trilogy.
Second hand Audemars Piguet Royal Oak: The trademark collection
The AP Royal Oak needs no introduction, but we'll give it one anyway. Bold and daring designs for both men and women deliver both disruption and conversation wherever you go. An investment worth making, we stock all-new collections as well as used Audemars Piguet Royal Oak watches for every personality.
From alligator straps to steel and rose gold, and with eye-catching dials and an effortless charm, it's little wonder the Royal Oak is subject to desire all around the world. A distinctive aesthetic and impeccable precision pay tribute to the values AP has always been driven by.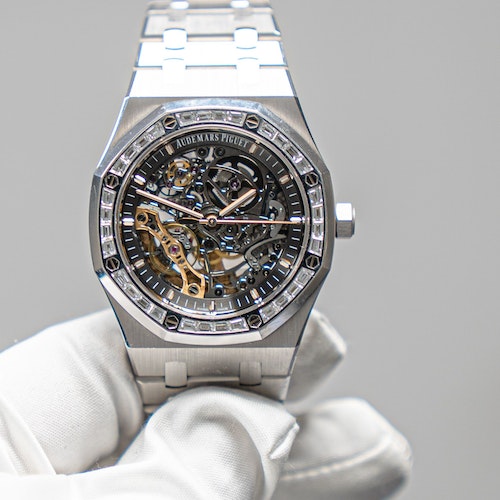 Horological perfection on your wrist
Every used Audemars Piguet that comes through our doors is backed by a 12-month warranty. Browse our collection online and if the watch you want isn't here, just let us know. We offer a same-day sourcing service for most timepieces, and we're confident we can dig up the luxury watch you've been searching for.
Trilogy Jewellers also offers fast repairs, and our knowledge of the high-end watch sector is second-to-none. Just ask our personal team for advice, and let us immerse you in this prestigious world.
TRILOGY ON YOUTUBE
Follow Trilogy on YouTube for regular updates and reviews of luxury watches and jewellery.