Worth Their Weight in Gold: Rolex's Unique Gold Melting Method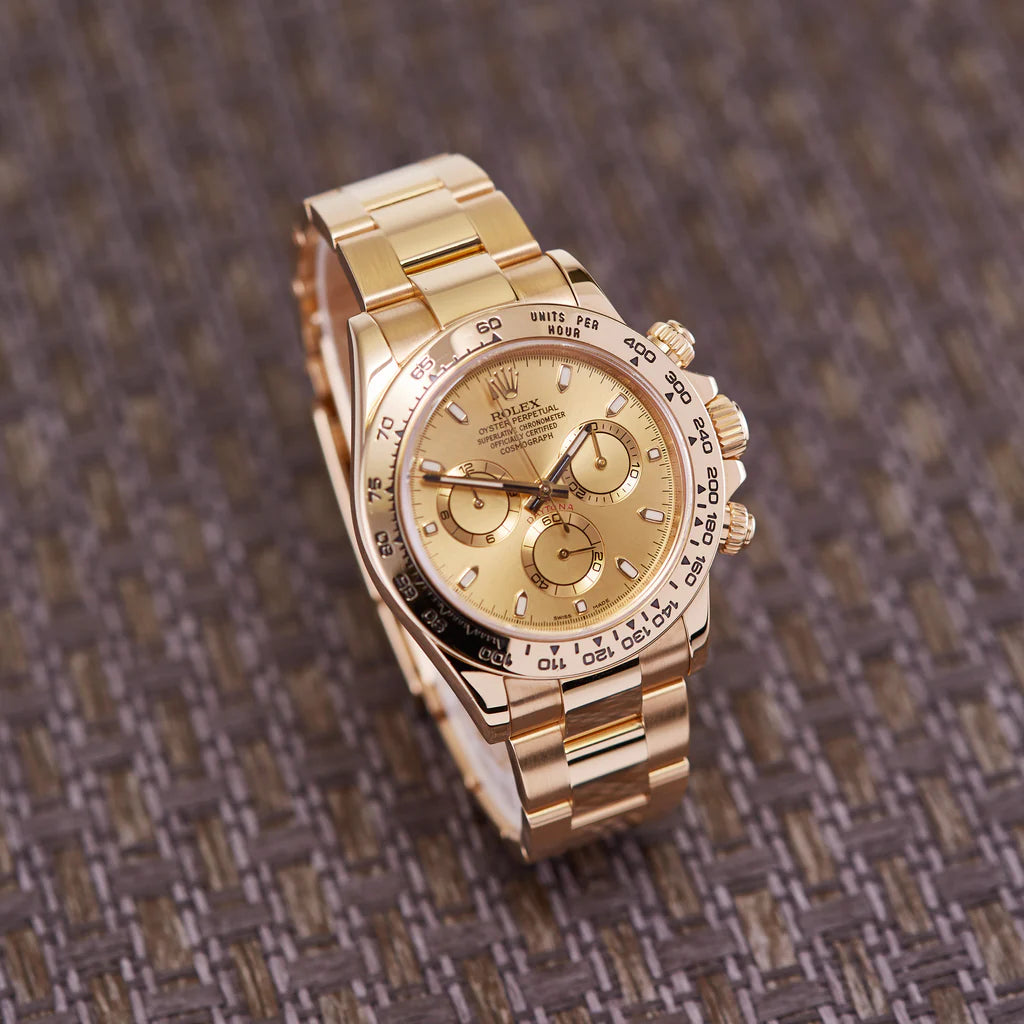 Rolex is the only luxury watch manufacturer to make its own gold and platinum. With complete control over the quality and look of the precious metals that go into each watch, these luxury timepieces become an even more valuable treasure.
Rolex defines the materials used in their watches as:
Materialsma • te • ri • alsThe matter from which a Rolex watch is made. All must deliver the highest performance. If an existing material does not meet the requirements, Rolex will create its own. High-resistance ceramic, paramagnetic alloys, and specially formulated 18 ct golds are all developed, created, and crafted exclusively by Rolex. The reflection of Rolex's commitment to making every element of every watch as perfect as it can be. The Rolex Way.
Rolex's state-of-the-art gold foundry
Rolex famously keeps its secrets close to its chest. Even those invited into the house are forbidden from taking any photos or videos - so our information comes from word-of-mouth accounts and Rolex itself.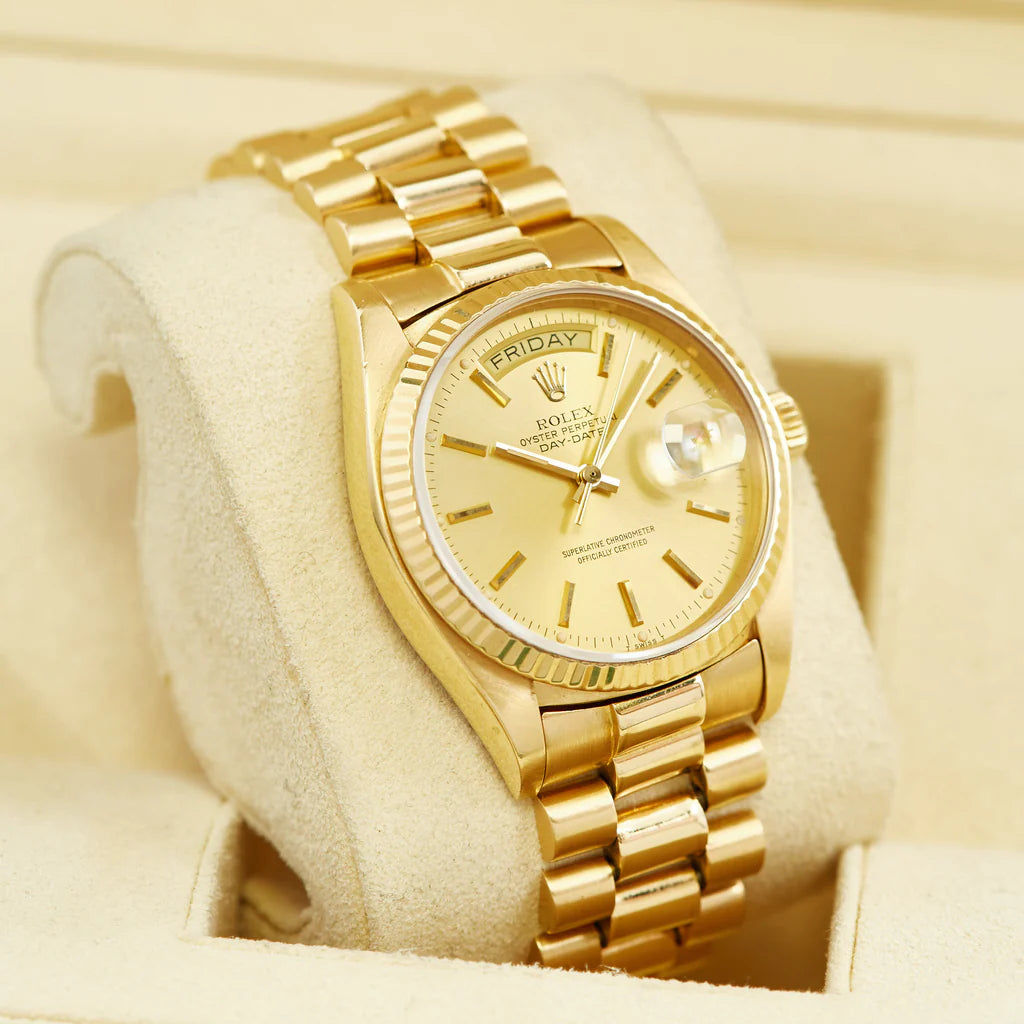 One thing we can be sure of is that Rolex has an in-house foundry that casts the gold for its watches. And yes - it's unusual for a watchmaking brand to take ownership of this step. Rolex does it so they can be confident only the finest precious metals make it into their luxury timepieces.
Experienced foundrymen use carefully guarded formulas to cast 18 ct yellow, white and Everose gold alloys. 24 ct gold arrives at Rolex and is processed into 18 ct gold. Seems bizarre, but this is done because 24 ct gold is too malleable in its pure state. The experts alloy it with other metals to make it harder and more resistant. That's why your Rolex watch can last a lifetime. Or two.
Rolex introduced its purpose-built foundry in the early 2000s, and has become a master of every manufacturing detail. The highest quality gold alloys melted under hot flames, right there in the Rolex factory, are the superior-quality materials that make it into your watch.
What happens in the foundry?
The Rolex foundry is where the magic happens. The manufacturer creates its own formulas for three different types of gold, as well as for 904L stainless steel (which we cover in more detail later in this blog - just scroll.)
Every alloy is created entirely in-house, because the composition of the metal is the leading determinant of the timepiece's aesthetic, mechanical and dimensional properties. 
It's a cumbersome process that calls for nimble hands and an eye for detail. Rolex gives the full story on its website, but we've picked out some key parts of the process to give some understanding of how "The Masters of Fusion" get to work.
Foundrymen melt 24 ct pure gold over flames.
They pour the liquid alloy through a sieve to create droplets.
These droplets fall into a vat of water, where they're cooled to become beats of 18 ct gold.
The experts create different types of gold by bringing in certain proportions of silver, copper, platinum or palladium.
What is Everose Gold?
One innovation to come straight out of the Rolex foundry is Everose Gold - Rolex's take on rose gold (sometimes known as "pink gold").Brought to life in 2005, it's an 18-carat rose gold alloy created from a mixture of pure gold, copper and a trace of platinum. Rolex created (and patented) the metal inhouse. According to the brand, it'll never lose its beautiful pink/red colour. 
Rolex wanted a rose gold that was a world away from other cheaper alternatives. The one-of-a-kind Everose Gold is built to outlast other pink gold watches and to reject the notion that this shade of gold is the sole domain of women. Rolex set out to make this a neutral tone, for the wrists of men, women and everyone else.This Rolex iteration gives rose gold a slightly darker hue. The brand incorporated it into some of its masculine timepieces, including the Rolex Daytona. 
Share information about your brand with your customers. Describe a product, make announcements, or welcome customers to your store.
In-house science labs & the Rolex factory
Research and development keep Rolex at the front of the pack. Science and technology form the basis of every progression at the watchmaker.
And while it's no surprise that Rolex and many other luxury brands have their own research and development departments, Rolex takes it a step further. A number of professional science labs have been installed across their various facilities, where researchers dig deep into the most effective manufacturing techniques, amongst other things.
From the chemistry lab to the stress test room, where watch components undergo simulated wear and abuse to check their durability, Rolex appears to operate on the motto: "If you want something done properly, do it yourself."
What's the big deal about 904L steel?
We've established Rolex likes to carve its own path. Not only does the brand melt its own gold, but it uses a type of steel you won't find in other luxury watches - 904L steel. 
Looking back tothe history of Rolex, they used to use the same stainless steel as everyone else - 316L steel. In the early 2000s, they moved their entire production line to 904L. So why the shift? Although both types of steel can hold their own against water, meaning they won't rust, 904L delivers that extra layer of durability. It's harder and more resistant to corrosion than the alternatives.
It's the perfect material choice for people that like to wear a luxury timepiece, but still want to explore the world. The Rolex customer is a go-getter; they're looking for a product that can handle the excitement.
Rolex first introduced 904L steel to its products in 1988, with the Sea-Dweller. 
Your dream Rolex, made to perfection
No one does it quite like Rolex. By taking ownership of the entire production process, right there in their own facilities, every watch that rises from the flames is of exceptional quality.
Trilogy Jewellers can help you source almost any Rolex - even the ultra-rare models. Visit us in Hatton Garden or call 0203 929 8227 to discuss the timepieces you want to add to your portfolio.
TRILOGY ON YOUTUBE
Follow Trilogy on YouTube for regular updates and reviews of luxury watches and jewellery.