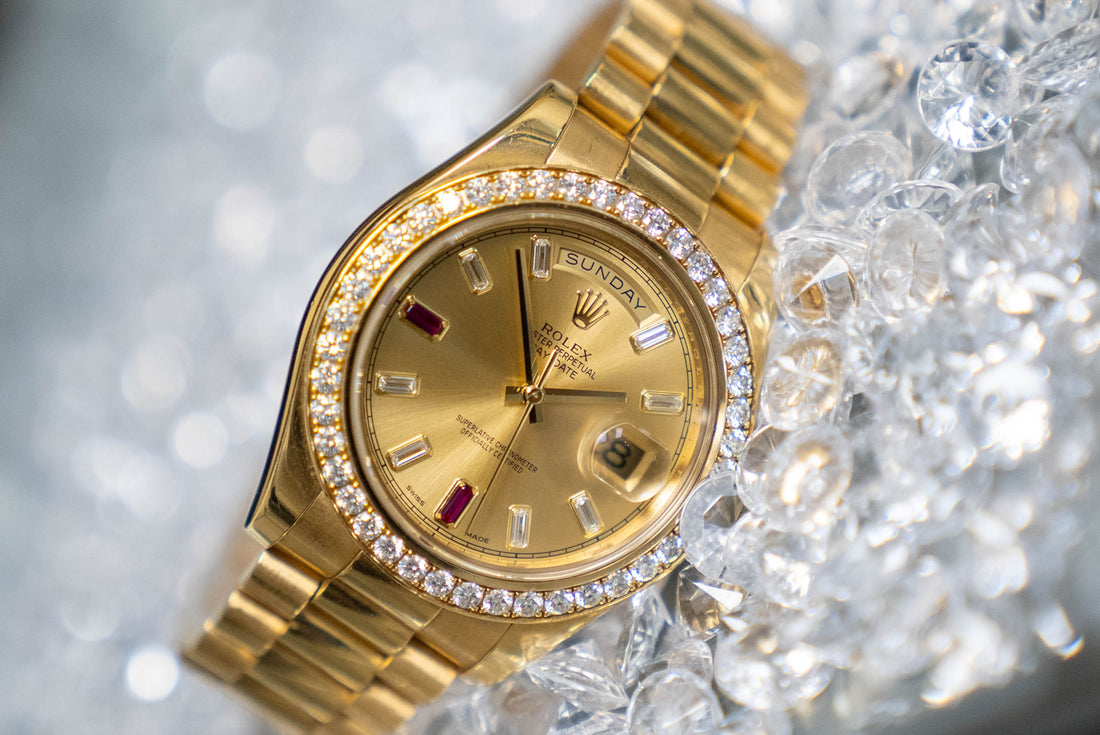 The History of Rolex: The Journey to Becoming a Global Powerhouse
As of 2020, the Rolex brand was valued at around $7.9 billion USD. It makes an estimated one million timepieces every year and is worn on the wrists of celebrities like David Beckham, Rihanna, Jay-Z and Bruce Springsteen. There's no doubt that Rolex has enjoyed a rich history that has played an enormous part in defining the watchmaking landscape as we know it today.From its ambitious beginnings to now, take a look back at the history of Rolex and what's made it the global powerhouse it is.
In the beginning…
To understand the impact Rolex has had on the industry, we have to go back to where it all started. And that was with Hans Wilsdorf, its founder. According to Rolex itself:"The history of Rolex is inextricably linked to the visionary spirit of Hans Wilsdorf."Back in 1905, Hans founded a London-based company that specialised in timepieces. While there was a market for wristwatches, they weren't as precise as they could have been, and he imagined wristwatches that were both elegant and reliable.Two years later, he joined forces with his brother-in-law, Alfred Davis to form Wilsdorf and Davis, a watchmaking company.
Becoming Rolex
Wilsdorf wanted a short, simple brand name that could be pronounced in any language. He tried all sorts of combinations of the alphabet, but none of them felt right. It wasn't until he was riding on the upper deck of a horse-drawn bus through London, that he came up with the name.Well, as Hans recalls, "a genie whispered 'Rolex' in my ear." Rolex officially got its name in 1908.
How Rolex helped shape the original quartz watch movements
Rolex has, of course, been instrumental in shaping the timepiece market. For now, let's fast forward to the late 1960s and early 1970s, when the original quartz watch movements were being developed. What role did Rolex play?Although generally focusing on mechanical watches, Rolex's engineers were key in the design and implementation of quartz movement technology. This time period saw a kind of race to produce the first commercial quartz wristwatch, with Seiko just beating the brand to market in 1969. Rolex decided they could do better. That's when they began working on their own movement, unveiling the Oysterquartz 5035 five years later - a level of quartz calibre that had never been seen before.
Innovations throughout history
It might not be an official member of the Holy Trinity of Watchmaking, but Rolex has certainly gifted the industry with an incredible number of innovations since its inception. 
1910 - Became the first watchmaker to earn the Swiss Certificate of Chronometric Precision for a women's watch
The chronometer certification is awarded to high-precision watches. The certificate reflects a brand's "flawless quality system" and enhances the technical value of a watch model by an "incalculable" amount". 
1926 - Created the first screw-down waterproof case
The Oyster case was the world's first reliable waterproof case that used a screw-down crown. Following this achievement, Rolex's founders built a watch called the DeepSea and attached it to a submarine which travelled to the bottom of the Mariana Trench. Even at 11,000 metres deep, the DeepSea kept perfect time.
1931 - Found a way to achieve reliable timekeeping without winding
Rolex created a winding mechanism with a rotor and fully rotating weights, which powered the watch by the movement of the wearer. This was the first time wristwatches were able to maintain the time without the need for manual winding - although it later became a standard winding mechanism. 
1953 - Produced a case waterproof up to 100 m
The Rolex Oyster Perpetual Submariner was the first divers' wristwatch waterproof up to 100 metres. Since then, it has set the standard for divers' watches and today is waterproof to a depth of 300 metres.
1956 - Made a watch with a day and date that updated automatically
The Rolex Day-Date of 1956 had a dial with a day and date that changed automatically. Its abilities at the time were unprecedented, and it was the first self-winding, waterproof chronometer wristwatch that showed both the date and day in two distinct windows.
The models that created Rolex as we know it
A selection of models stand out throughout the history of Rolex. The Submariner, Daytona and Datejust have been key in making the brand what it is.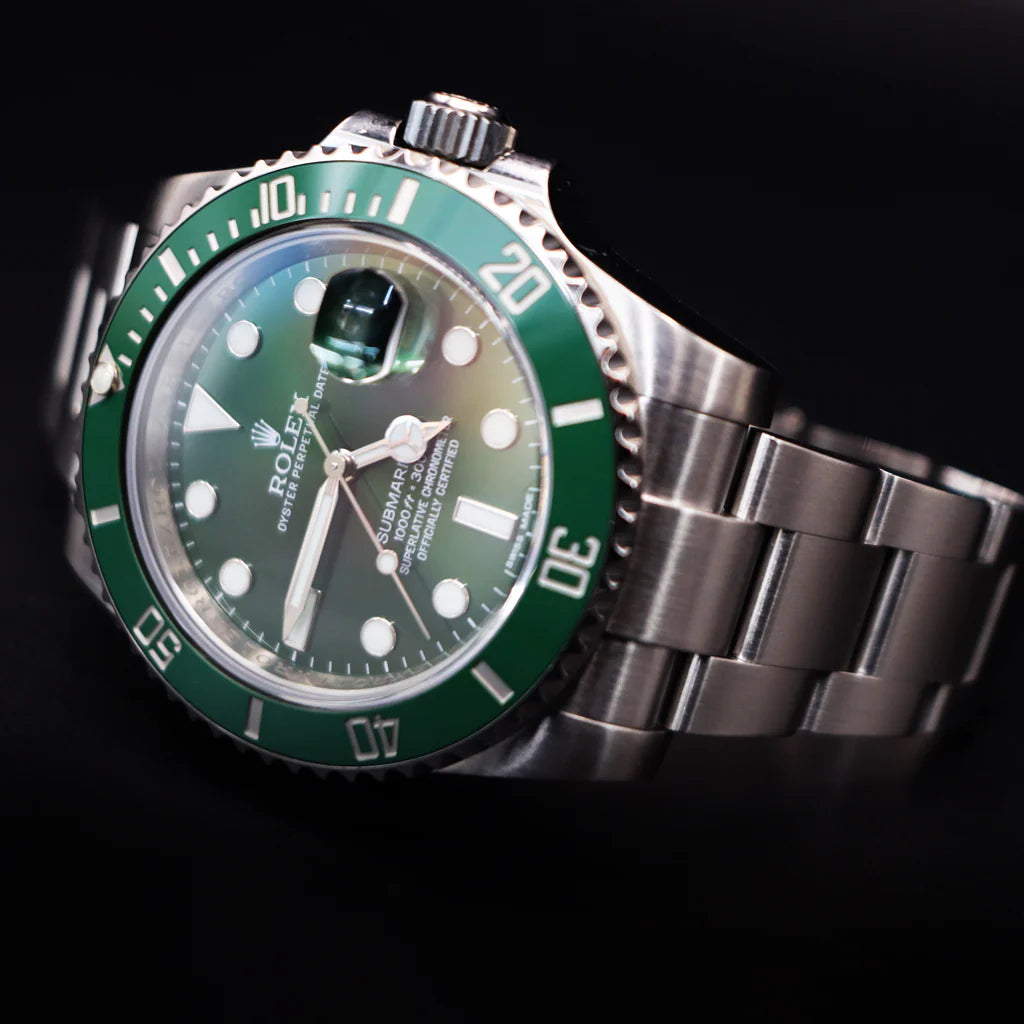 Submariner
"The reference among divers' watches"
"The watch that unlocked the deep", the Submariner launched in 1953 and proved that watches could be submerged up to 100 metres. Since its inception, the Submariner has evolved multiple times for better functionality and aesthetics, while always responding to the needs of divers.
Today's models pay homage to the original, sporting a slightly larger Oyster case and distinctive dial with luminescent hour markers - for additional clarity underwater.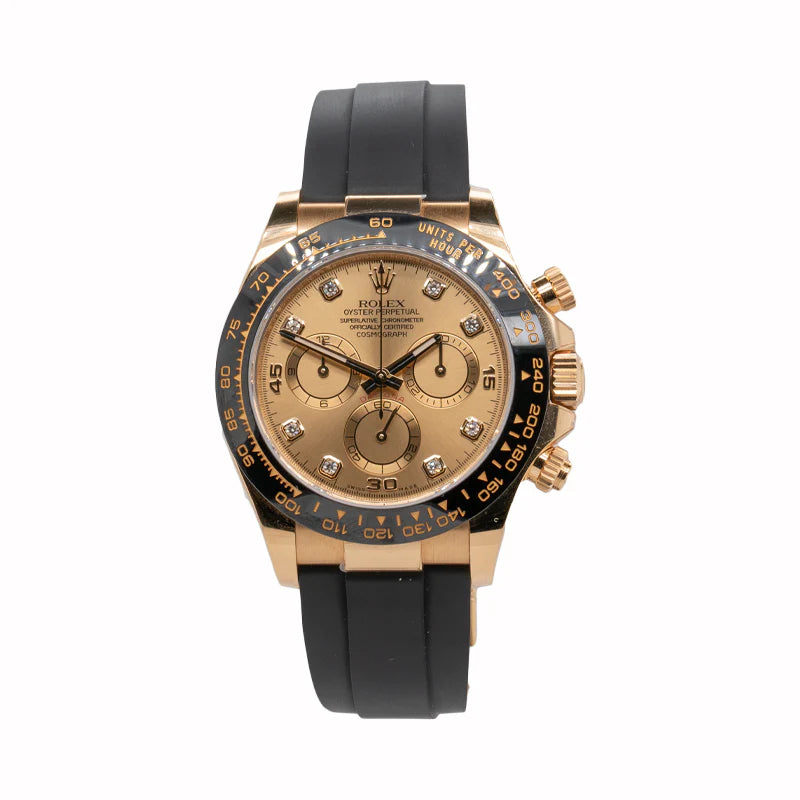 Daytona
"Born to race"
The Rolex Cosmograph Daytona was introduced in 1963 for the professional racing market. It's fitted with a self-winding mechanical chronograph movement, calibre 4130, and built for symmetry and balance. 
The Daytona has a power reserve of 72 hours and a highly reliable movement. Drivers can use it to measure elapsed time and average speeds with precision even on the race circuit.
Datejust
"The classic watch of reference"
The Rolex Datejust was created in 1945. It's the classic Rolex watch that remains an icon to this day. The Datejust was the first self-winding waterproof watch to display the date on the dial at 3 o'clock.
Its features make this watch instantly recognisable - from the 18ct gold fluted bezel to the five-piece link Jubilee bracelet. Today, wearers can choose from a selection of sizes and materials, including diamond-set or mother-of-pearl dials, and Jubilee, palm and fluted laser-etched motifs.
Some reasons why the brand grew and grew
So how did Rolex become so successful? Aside from the innovations that shook up not only deep-sea diving and professional racing, but also the world, there are some stand-out reasons Rolex became the global powerhouse it is today - and why it's still taking over.
Rolex doesn't follow trends. Instead, it prefers to stay true to its classic, recognisable look and to change styles very slowly throughout the years.
It produces no more than 1 million timepieces a year, so demand always exceeds supply.
Only premium materials are ever used. From 950 platinum to 18K gold and its Oystersteel, everything you see on a Rolex is flawless.
Rolex is worn by celebrities and serious watch collectors.
It's the watch of choice for many athletes, breaking into the sports market through world-famous collaborations and found on brand ambassadors like Roger Federer, Tiger Woods and Jackie Stewart.
You can count on a Rolex watch to hold its value.
Second-hand Rolex watches sell for a lot at auctions, with Paul Newman's Rolex Daytona coming in at the most expensive wristwatch ever sold at auction. It went for a staggering $17,752,500.
Since it was founded, Rolex has been great at marketing. From printing the name on every watch dial (something that was unusual back then) to its involvement in prestigious sports events such as tennis, Rolex has always shown itself to represent sports and success. 
Invest in a piece of history
The history of Rolex is a fascinating one. Believe it or not, we've only touched on the surface here. Want to own a piece of this history? Shop Rolex watches online at Trilogy Jewellers, London, for in-demand pieces and rare gems.Want us to source a watch for you? Give us a call on 0203 9298227. We're confident we can get just about any timepiece to you.
TRILOGY ON YOUTUBE
Follow Trilogy on YouTube for regular updates and reviews of luxury watches and jewellery.